Which of these issues are you dealing with?
I'm Ready For A Change
Q: "I want to feel more alive about myself, my family, my work, my life. But when I try to change anything, it seems overwhelming. Can I really do this?"
A: First let's identify, clarify and energize every area you want to change. Together, we'll make an easily accessible, very do-able, fun and empowering new paradigm for your life----the way you've always wanted it to be! Not just ideas, but dreams with legs----specific steps to attain the life you want.
Relationship Conflict
Q: "I love my partner so much and I don't know how to stop these arguments. It seems like our disagreements will never end. How can we get back to the love?"
A: I know you have the answer inside. I have been there. The issue is in how you perceive your partner. The answer is in exploring the beliefs you hold about yourself in the moment when you are arguing. I will walk you through the core beliefs that you are generating. By doing this your feelings will change and you'll think differently. The next time your partner starts an argument you will react differently. You will find love again and again.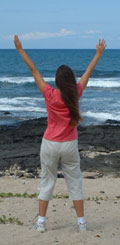 My Life's Purpose

Q: "I want to know my life's purpose. I'm always busy but I rarely feel a sense of deep satisfaction. Am I on track? Am I really doing what I'm supposed to be doing?"

A: We get off track because we listen to other people more than we listen to ourselves. We lose our connection to our true purpose because we get attached to a particular outcome, and are disappointed and confused when it doesn't happen. Most people don't find the best answers because they don't ask the questions that can lead them to those answers. In a counseling dialogue session I will show you those questions. Then you will find the true answers from the only expert on your life -- YOU!
I Want More Out Of My Work

Q: "I sometimes believe my REAL life is outside of work. I dream of someday being able to do what I want with my days, to use all of my gifts and talents and to be appreciated for them."
A: Increase your satisfaction with your profession by finding new ways to bring all of your gifts, all of your smarts, all of your ideas and creativity (even if you think they don't apply in your situation!). Increase your ability to feel love and lightness of spirit, and to provide the highest level of excellence possible, while being recognized and rewarded. You will have so much fun with this experiential approach to getting specific, getting exquisitely clear and confident and going for it! Find out how to live your passion wherever you are.

Health Challenges
Q: "I have had some real health issues lately and I'm not sure what's happening. What is causing all this? How can I be healthy again?"
A: In our society we are trained to look to the health experts for the answers. Are you missing some of the valuable answers that live inside you? Exploring your emotional state of being, along with your core beliefs, can help you re-open the doorways to health. In a counseling dialogue session you will be amazed at how much you already know about healing your own body.
Bringing My Career To a Higher Level
Q: "I love my career but want to add more spark, expand my edge, get a fresh perspective, feel the natural propulsion of having unstoppable passion."
A: Let's do it! Dive in and make the big attitudinal shift! I have great technique and a depth of experience helping individuals and groups to reach higher levels of excellence in their work environments. I believe there is nothing as empowering as showing up with 110% of ourselves on board and committed, with clear direction and purpose. Let me help you. Highly motivated clients get fast results and have a great time making their lives MORE fulfilling, MORE amazing.

I'm Too Hard On Myself
Q: "When I stumble I find it hard to forgive myself and move on. But if I love myself just the way I am, how will I ever change or succeed?"
A: Most of us judge ourselves because we think that will force us to change. It works, but there is a price to pay: we end up hating ourselves. There are more effective ways to create change. Give yourself a break! Love and acceptance are what makes a child grow, and the same is true for you. In a counseling dialogue session you will find the roots of your old beliefs and develop better methods of creating what you want.
I Want to Solve Problems with Ease and Inspiration

Q: "I envy people who know how to solve problems creatively and quickly. I labor and often come up empty handed and doubting myself. Can I learn creative thinking?"
A: Everyone has the potential to be creative. Everyone! Whether you are a corporate professional, a painter, a homemaker, a clerk, or a teacher----you are an artist who can expand your niche and learn to increase creativity in every arena. Creative people are better at everything---relationships, problem-solving, handling crisis or conflict, starting new enterprises, caring for children----everything!

Find the solution to seemingly unsolvable problems by thinking, feeling and intuiting outside your self-constructed ways of functioning. I will help you tap into your creative juices, find your blind spots, expand your potential and see ways to easily move into bigger, more exciting opportunities. Radically increase your creativity. Discover the power of expanding your awareness of the choices available to you. You've never had more Fun! Guaranteed!


Let's Create Solutions!

These are just a few samples of the issues that can be easily resolved in your session.
If you are struggling with a different problem, call us to find out how we can help you with it.